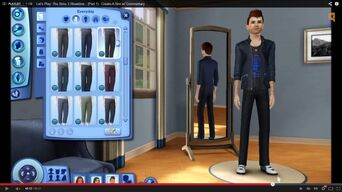 Austin Cruz is a sim from TheQuxxn's Showtime Let's Play. He was created in part 1 of the let's play and was one of the four original sims. His sister, Ariana, lived with him, Jensen, and Scarlett who later became his wife. Austin was a magacian and reached level 10. He married Scarlett Rose and had triplet boys- Mason, Taylor and Blake. They then had a fourth child, Hazel Cruz. Quxxn killed Austin Cruz by accident in part 46. He was an elder sim and died of electrocution. His funeral was a failure.
Trivia:
BIOGRAPHY

Name:

Austin Cruz

Gender:

Male

Age:

Young Adult-Elder

Life State:

Normal (Human)
FAMILY

Parents:

No information

Siblings:

Marital Status:

No information

Children:

No information
PERSONALITY

Traits:

No information

Zodiac Sign:

Sagittarius

Favorites:

No information
OTHER INFORMATION

Appearances:

Showtime (01-46)
Ad blocker interference detected!
Wikia is a free-to-use site that makes money from advertising. We have a modified experience for viewers using ad blockers

Wikia is not accessible if you've made further modifications. Remove the custom ad blocker rule(s) and the page will load as expected.