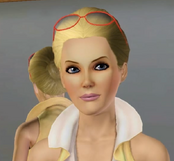 Biography

Name:

Blake Ross-Grayson

Gender:

Female

Age:

Young Adult

Life State:

Normal (Human)
Family

Parents:

Unknown

Partner:

Siblings:

None

Children:
Personality

Traits:

Flirty, Perfectionist, Commitment Issues, Childish, Ambitious

Zodiac Sign:

Libra

Favourite Food:

Cookies

Favourite Music:

Pop

Favourite Colour:

Pink
Other Information

Appearances:

World Adventures (4-23)
Blake Grayson-Ross was a pre-made sim who lives in
Hidden Springs
.
She married Ethan Ross, a sim made by Quxxn, in her World Adventures LP on Part 19.
Her Lifetime Wish is to be a Jack of all Traits (Reaching level 5 in 5 careers.)
She was a level 5 Criminal when she moved in, but Quxxn made her quit her job and start in the Business Career.
She has one son, Edwin Grayson, who she gave birth to off-camera.
Ad blocker interference detected!
Wikia is a free-to-use site that makes money from advertising. We have a modified experience for viewers using ad blockers

Wikia is not accessible if you've made further modifications. Remove the custom ad blocker rule(s) and the page will load as expected.