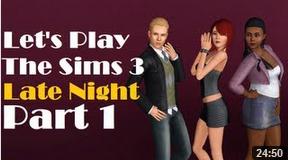 The Sims 3 - Late Night

Series Name

Let's Play: The Sims 3 Late Night

Status

Completed

Parts

17

Expansion Pack

Late Night

Town

Bridgeport

Starting Sims
Overview:
Trivia:
This series was a result of the suspension of World Adventures.
The original length of Late Night was stated (by Quxxn herself) to be 20 parts.
This LP was terminated due to the start of the upcoming Supernatural LP.
Ad blocker interference detected!
Wikia is a free-to-use site that makes money from advertising. We have a modified experience for viewers using ad blockers

Wikia is not accessible if you've made further modifications. Remove the custom ad blocker rule(s) and the page will load as expected.